Roadtrek Ramblings
August 9, 2010 - After two short excursions in our new 2010 Roadtrek Adventurous RV, we are finally embarking on a month-long journey across the continent. Yesterday, I had prepared the vehicle, the property, and me for the journey, working under the assumption that we would be leaving early in the morning.  It became evident this morning watching Carol's preparations that I was wrong.  I queried my lovely lady and was told we were trying for 10:00 am.  We pulled out of the driveway at precisely 11:00 am.
Six hours later we reached a state park with an unpronounceable name beginning with 'K', on the US side of the St Lawrence River.  Arriving a little after five, we read the sign on the closed entrance kiosk apologizing for missing us and notifying us that sites 1, 12, 13, and 41 were the only ones available.  There was no campground map on display so we drove to the campground for a little recon.  The place is wall-to-wall people, tents, trailers, and tow vehicles.  Unlike other state parks, this one made no attempt to define a site other than with a metal stake jammed in the corner of each fire pit and topped by a numbered plaque with an arrow indicating which side of the plague was the site.   There was also no attempt to define the pull-in area, or level it, or anything else.  We were looking at a large expanse of lawn with many, many vehicles, habitats and humans milling around.   The most level of the four available (we only actually found three in our drive-around) was Site 1, so we took it.   We are backed under a large pine on the indicated side of the Site 1 sign.  The vehicle is canted several degrees to port which, I discovered during our nightly scrabble game (I won 353-352) causes the swiveled front seat to drift that way.  If I didn't hold it in place with my feet I would be facing the driver's seat instead of the game table.
We have five neighbors in the all-too-near campsite #2, a man, two adult women, and two pre-teen girls.  I'd estimate their combined weight at around half a ton, each contributing an age-appropriate share.  Looks like Mom, Dad, adult daughter and two smaller daughters, all with a very active fat gene.
We walked down to the water before dark, Alexandria Bay I believe, and saw a half-dozen of the Thousand Islands.  Ever wonder if anyone actually counted them?  Anyway there were very impressive houses on the islands - much money out there in the bay.
Aug 10 - I finally rolled out of bed at 8:00 this morning.  I guess sleeping only four-and-a-half hours the night before caught up with me.  Carol had coffee made and was sitting under a tree re-reading Catch 22.  She was less eager to get on the road than I so we didn't get moving until 10:45.  I intended to empty the freshwater tank, which I'd doused with a healthy dose of chlorine before we left, then flush the system with fresh water, re-fill it and purge the grey and black water tanks before we left the park.  It turns out the park has no dump station - shouldn't have been a surprise. 
We crossed into Canada before noon, passing through customs with relative ease.  The only hesitation came when the young lady in the customs kiosk asked where we were going today.  "I have no idea," I answered.  I had to explain that we were on our way west to Montana and Glacier National Park, among other places and chose the Canadian route.  When she then wondered if we had enough money to get across, I resisted the urge to ask her what it cost and answered in the affirmative. She continued, asking if we had any weapons, we didn't (I count the axe and machete as tools).  After a few other questions we were allowed to pass. Less than a mile, or 1.6 kilometers (Canadians may spell it kilometres) down the road we stopped at the Ontario Tourist Information Center for maps to help us locate Canada's great provincial parks. 
Back at the Roadtrek we decided to remain parked while I perused the maps and Carol prepared lunch for later in the day. 
An Aside - Our Roadtrek attracts lots of attention. At fuel stops, grocery stores, even on the road I see people motioning toward the vehicle and clearly chatting about it.  This trip we gave a couple at the 'K' park a brief tour.
<![if !vml]>
<![endif]>
While I checked our new maps, a small black car parked beside us.  In it was a couple about our age, the woman motioning for me to lower the window.  When I complied she said they had a 2002 model and loved it. She spent about ten minutes telling me where they bought theirs, her work history, etc., tapping her husband occasionally for verification or additional information. She next proceeded, in great detail, to recommend a tour of the factory and that we join the Roadtrek Owners Club in order to take part in their jamborees.   Apparently satisfied that all relevant words had been spoken, she nudged hubby and they pulled out of the lot.  They had stopped only to talk about the machine!
Armed with directions to 401 from the young lady in the center, we meandered, unintentionally, around southern Ontario trying to connect with the Trans-Canada highway with the plan to stay with it all the way through.  "It" is incorrect since there are a few routes that call themselves "Trans-Canada." We were looking for the one that skirted the Great Lakes. 
While Carol was busy tacking sticky-notes on the dashboard so she had English to metric and Fahrenheit to Celsius conversions readily available, I missed a turn, not realizing it until a road sign told me I was on 115 South (instead of 7 West.)  We found an exit that would eventually reconnect us with 7 and took it.  A dozen kilometers later a huge sign warned us of lane closures for the next 25 kilometers and to expect delays.  And so there were.
I stopped to fuel up at a small gas (petrol?) station but got concerned when I couldn't find the sign telling me that it was Ultra-Low Sulfur, a requirement in our engine.  Before pumping, I checked at the desk. The confused clerk pulled the invoice for their last delivery out and showed it to me; at the bottom was ULSF.  I filled the tank with 53.29 liters of diesel and asked Carol to find the conversion to gallons so I could check our fuel mileage.  While she was looking, I started the engine, zeroed the trip odometer and pushed on west.  When she found the conversion key I calculated the number of gallons then realized I'd reset the odometer without reading the mileage. 
By this time I was eager to find the closest provincial park and, after some confusion as to which region in Ontario Province we were currently driving through, we spotted Bass Lake on our map and placed a call to find out about available sites.  Since I was driving, I passed the phone to Carol to negotiate the series of "Press (pick a number) for …." Finally, she got to a real live person and found that there were vacant sites with electric hook-up.  "Try to make a reservation," I said, but she continued to chat with the person at the park.  When she terminated the call I asked why she hadn't.  Her response, "I thought I knew the answer."  There's just no way to parse that logic. 
Turns out there were many sites to choose from and a big sign behind the desk warning attendants not to make any reservations until further notice.  Not sure when ESP became one of my wife's formidable collection of mental tools. 
After we settled on a site, I left Carol at the registration desk and drove to the sanitation area.  I emptied, flushed and refilled the fresh water tank then purged the holding tanks.  I retrieved Carol and the load of firewood she'd purchased then started back up to our hilltop home for the night. 
Ahead of us a pickup with two five-gallon buckets in back made the turn and accelerated up the slope.  Since the tailgate was open when gravity took over, both buckets slid out, spilling their watery contents into the road as they rolled down the hill.  The truck backed up; the driver retrieved the buckets, empty now, and returned them to the truck bed.  He didn't close the tailgate. The truck had New Jersey plates.
Aug. 11 - Carol has calculated that making 400 miles a day will get us to the vicinity of Montana's Glacier National Park the day our reservation begins.  We got a relatively early start this morning and only got lost once, adding about twenty-five miles to today's target.  I fueled up again, this time remembering to record the trip mileage before resetting the odometer.  After converting liters to miles, I calculated that we got 19.7 mpg, not bad for an apartment on wheels.
As we traveled, we noticed small cairns on many of the rock ledges along the way.  Some were simple piles of stone while others looked like miniature sections of Stonehenge; one even duplicated Delicate Arch in Arches National Park with remarkable accuracy.  They appeared at odd intervals, singly or in clusters for the entire route.  Puzzling.
<![if !vml]>
<![endif]>
We pulled into Pancake Bay Provincial Park, on the shore of Lake Superior at about five-thirty and grabbed one of the hundreds of campsites, rejecting a site with electric that was very close to the Trans-Canada highway for a non-electric site in the woods.
It's raining as I write this, a gentle summer rain that will be pleasant to walk in but will preclude a fire this evening.
Aug. 12 - Did our 400+ miles today.  We're camping about 20 miles west of Thunder Bay, at Kakabekah Falls.  This is our third night in Ontario Province and we've traveled close to a thousand miles!  (We won't talk about the hundred or so miles involved in missing turns and such.)  Today's travel was mostly in Adirondack-style mountains; very few settlements and lots of conifers. 
We spent some time in White River, (http://www.whiteriver.ca) which bills itself as the hometown of Winnie-the-Pooh.  We actually drove through it, then curiosity overrode our judgment and we turned around.  Turns out that a WW1 Canadian army captain found a female cub in White River and named her Winnie after his hometown of Winnipeg.  Winnie became the mascot for his outfit and shipped over with them.  They left her at a zoo in the UK while they were fighting in France.  The zoo apparently added "the-Pooh".  The little bear was a huge attraction in her new home, capturing many hearts including that of a young boy named Christopher Robin Milne, who named his favorite teddy bear after her.  His father, A.A., wrote some stuff about it.
Ever since entering the mountains, we've been seeing roadside signs advertising wild blueberries for sale.  At a fuel stop we spotted yet another, so Carol walked up the road toward it while I pumped the diesel.  Tank full and bill paid, I pulled away from the pumps and parked.  A few minutes later Carol appeared, empty-handed.  I asked her why no blueberries.  Her answer, I paraphrase here, was that there were two crates of berries in the trunk and a couple of guys and a woman talking, and the woman smoked.  I may be missing a detail there but I'm pretty sure that covers it.  We travel on without blueberries.
Aug 13 - We couldn't leave the park this morning without checking out the falls whose name it bears.  It didn't disappoint.  We also read of the hydroelectric plant built a century ago a mile or so downstream. It is still in operation pumping out megawatts of renewable energy.  Most of the original equipment is apparently still functioning.
<![if !vml]>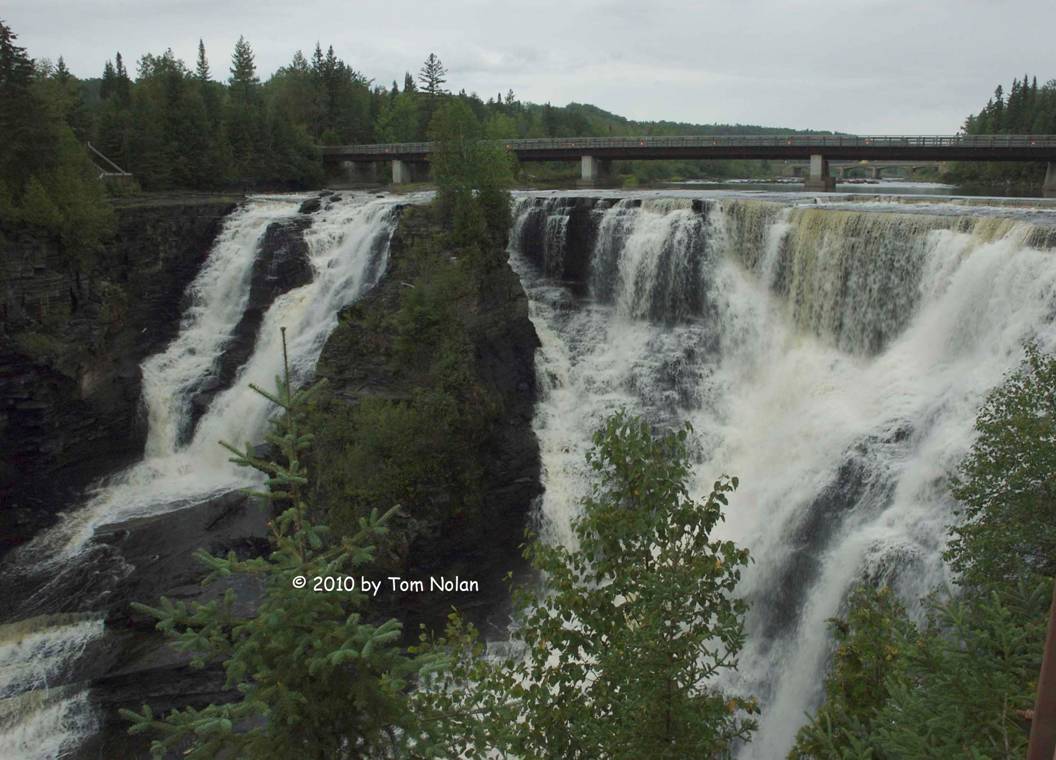 <![endif]>
We got underway a little before 11:00, target Winnipeg.  We've developed a short 'camper needs' shopping list, so Carol suggested a stop in Kanora, a fairly good sized city on the north shore of Lake of the Woods, to see if we could locate a large camper supply - and get more coffee.  We didn't find the store but we got coffee at Tim Hortons, a fast food chain with pretty good brew. 
The land levels out a little way into Manitoba, the endless conifer forest giving way to wheat.  We hit several patches of hard showers as we pushed on toward Winnipeg and the wind kicked up to the point that the big machine danced a little.  Shortly after crossing the provincial border, several things happened: we entered the central time zone, the Trans-Canada highway became four-lane limited access, the speed limit went from 90 (@55) to 100 (@62), and we were informed that all rivers from this latitude are part of the Arctic watershed - meaning they flow north into the Arctic Ocean.  As we approached the big city in the plains, I recalled the first time we saw it fifteen or twenty years ago, how it seemed to spring up out of the wheat fields, no suburban sprawl to announce itself.  I hoped that the vision was still true. 
We'd been riding in and out of the rain showers lost in our own thoughts when Carol said, "Is it K-E-R-I-N?"  "What?" I asked.  "K-E-R-I-N!" "What in hell are you talking about?" "The rock monuments we keep seeing, how do you spell it?"  "C-A-I-R-N," I answered.  You can't make this stuff up.
<![if !vml]>
<![endif]>Winnipeg popped up in the distance much as I remembered.  Buildings of a dozen or more stories, appearing like a mirage.  I snapped a picture.
 Today is triskaidekaphobia day.  So far it's been all good, well except that we got lost walking around the humongous Birds Hill Provincial Park campground.
<![if !vml]>
<![endif]>
Aug 14 - Long day today.  We woke at 6:00, stored the few things that needed to be stored then drove to the shower house, located yesterday after an hour or more wandering the maze of campground loops on foot.  There are advantages to being the first people in the showers in the morning, the main one being the floors are dry.  After my shower, I washed last night's dishes while Carol took her turn.  Our plan for the morning was to locate one of the cyber-cafes from a list provided by the friendly young lady at the camp registration desk. 
The only street we could match up to our map inset of Winnipeg was Portage Avenue, so we embarked on a search for 1110 Portage and the café that would yield breakfast and internet access.  We drove the perimeter loop west until reaching Portage, which was also Trans-Canada Highway #1.  Instead of continuing westward on Portage, we turned east toward downtown Winnipeg.  On the first pass we missed the address completely so we turned around.  I spotted the address on a door on the corner but couldn't see anything else about the place because I had to pay attention to traffic.  We U turned again.  When we reached the corner building with the big "1110" emblazoned on the door, we were looking at a Benjamin Moore Paint Store. 
Turning west we left downtown Winnipeg, breakfast now our primary goal with WiFi a distant second.  I spied a Flying J truck stop and remembering the places we'd stopped on earlier trips, I knew they had both restaurants and internet access.  We got the breakfast part but decided to wait until we came to a town with a public library and get free internet.  Portage had a library with a very helpful staff but we were unable to get internet access.  I believe, but didn't think of it at the time, that we needed to reboot our computers to let their firewall know we were there – a techie brain freeze, I guess.
We decided on a provincial park named Bison Pound northeast of Moosejaw.  The land all around us had been pretty much level for the entire trip today so we were astonished to pull into this park and end up in a hilly campground, hills a hundred feet high around a large lake.  It's one of many hidden treasures we've found in Canada's parks.
<![if !vml]>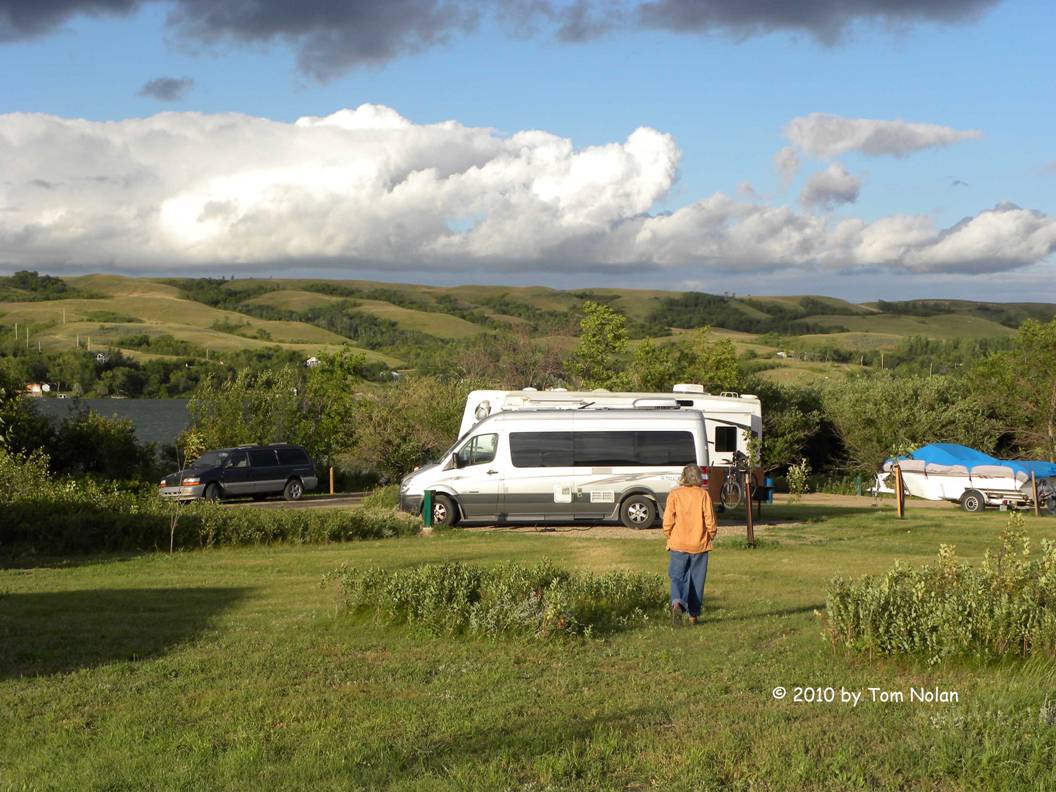 <![endif]>
Aug 15 - Woke up this morning to frost on the windshield.  The sun fairly quickly took care of it, warming the day into the mid-sixties by the time we fueled up in Moosejaw.
Pretty much since we left Winnipeg we've been bucking a gusty wind which makes driving a little tiring.  Our campsite reservation at Glacier National Park's St. Mary Campground dictated that we arrive this evening, so we got on the road immediately after breakfast and showers. Today the gusty wind has calmed to a steady northwest breeze, and with the highway still a wide four-lane and the road straight as a guitar string, Carol opted to get behind the wheel for the first time.
<![if !vml]>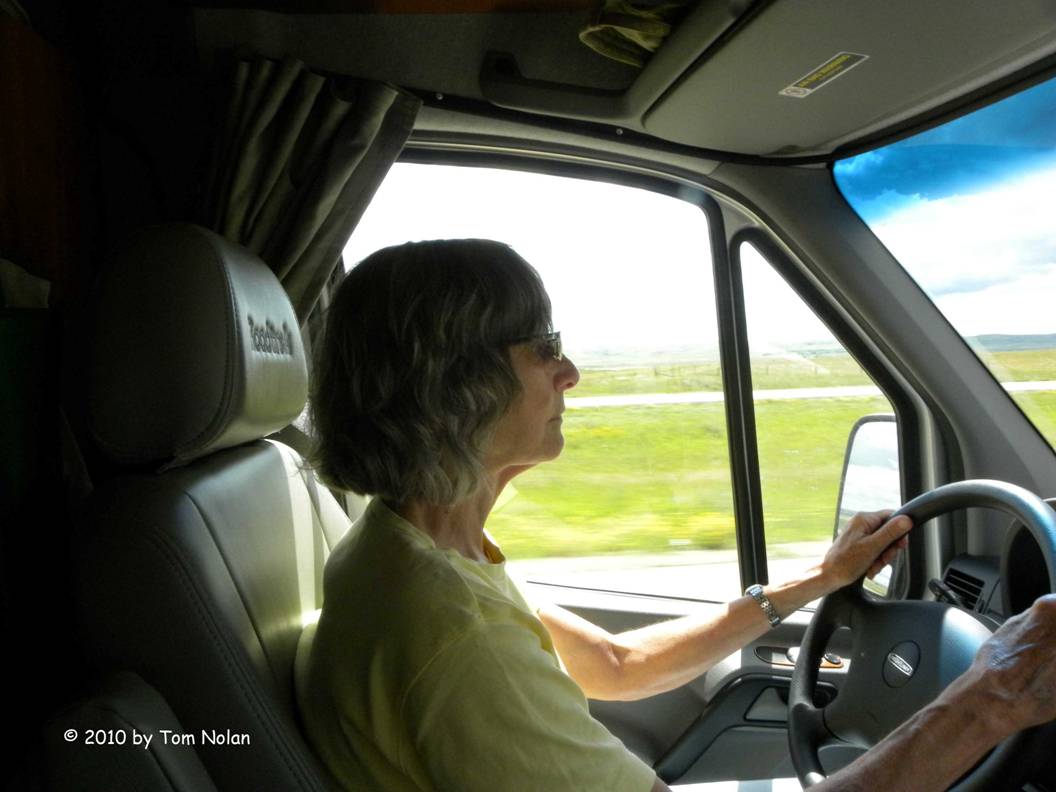 <![endif]>
<![if !vml]>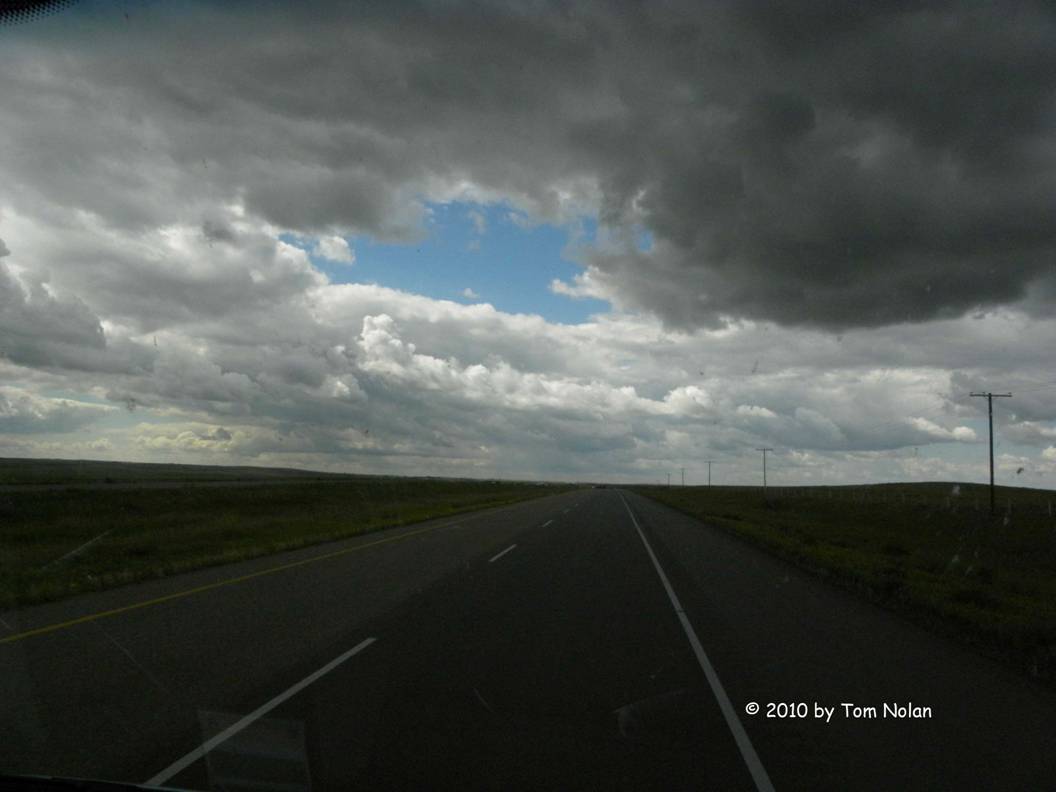 <![endif]>
She drove until we stopped for fuel in Regina, Alberta (Long 'I', and yes that's what it rhymes with) where we turned south.  We will ultimately re-enter the US in Montana, to the east of Glacier NP.  Alberta is the only province this trip that we passed through without an overnight stay. 
The changes in the land as we rode west are worth noting.  Central Manitoba is farm country, the soil rich and black, able to grow anything.  As we climbed steadily up the high plains into Saskatchewan, the soil became rocky and light, ranch country with beef and large round, half-ton hay bales dotting the countryside.  In western Saskatchewan and on through Alberta the land dried out even more, fields of feed corn and grass needed water supplied by irrigators inscribing huge arcs, some with a radius of more than a quarter mile. The land was almost treeless, wooded clusters appeared mainly as shelter encircling houses and barns.
<![if !vml]>
<![endif]>
Driving south through Alberta's rolling hills, we passed potash mines, wind farms, and corporate farms. When the Rocky Mountains became visible in the distance, a stark contrast to the land we'd traveled for the past three days, it was rejuvenating in the way the sight of a finish line is to a runner.
<![if !vml]>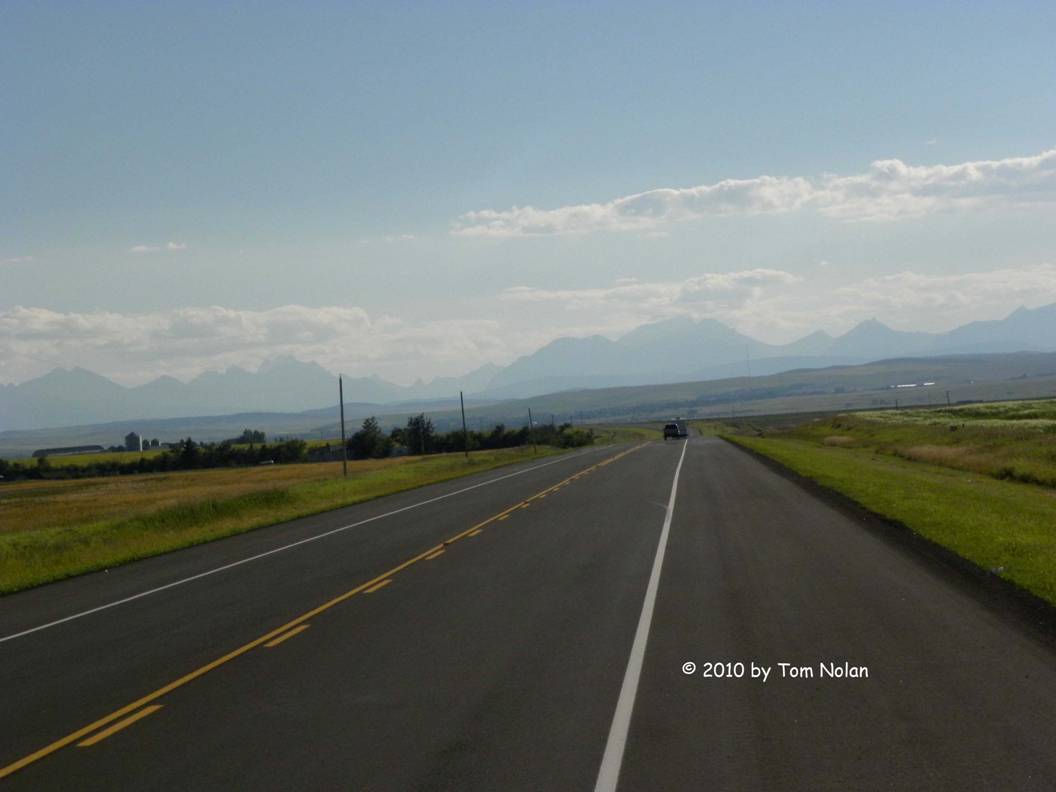 <![endif]>
We are settled into site A37 in St Mary's campground, just inside the national park boundary.  This will be our home for the next three or four days.
Aug 16 - Our first full day in Glacier.  I have been neglecting my editing and wanted several uninterrupted hours to catch up, so Carol opted to hop on one of the frequent park shuttles to Logan Pass.  She left mid-morning, returning after six gushing about the wonderful things she saw.
I worked on Second Cutting for about four hours, struggling for a quarter of that time with one short chapter.  Finally, I realized I needed a break so I put my computer in the big pack containing my D-70s and two zoom lenses. I inserted my new orthotics in my hiking boots, strapped the brace on my right knee (ain't aging wonderful?) and set out by road for the center and another look at the osprey nest.  Yesterday as I watched the three large chicks picking at the fish their parents had brought, it occurred to me that they wouldn't be nest-bound very much longer.  I really wanted to get some shots of them. 
Once there I spent over an hour sitting on a stone wall shooting the occasional photo of the restless chicks - then one of them took off!  I missed that shot but paid close attention as a second one flexed its beautiful wings.  It flapped and hopped in the nest several times, testing them finally leaping off the platform, wings flexing.
<![if !vml]>
<![endif]>
Unlike its more daring nest-mate, who disappeared over the trees as soon as it was airborne, this one circled the nest for several minutes before venturing further.  The final chick waited until the second had disappeared into the woods then it took off with no hesitation or fanfare and followed its family.  I had thought they were leaving for good but Carol told me they were back in the nest when her shuttle pulled in.
On the way to the center I noticed a footbridge over the St Mary River that looked like a shorter way to and from the campground.  When it came time to go back to writing, I located the path leading to it and had a much shorter walk home.  I sent a text message to Carol telling her of the path.
Back at the writing desk, I reworked the problem chapter with satisfactory results.  We'll see what happens when I reread it tomorrow.
Aug 17 – It's laundry, shopping and utilities day.  We dumped the holding tanks and filled the fresh water before leaving the park.  We have been using propane to cook, to run our fridge and hot water heater, and I've even cranked up the generator a couple of times.  The sensor panel never went off full.   We had to need some.  On the way out of the park, Carol, perusing her cell phone screen said, "Trauma can sometimes result in symptoms similar to Lew Gehrig's Disease."  Where in cell phone land that came from, I have no idea.
The small supermarket just outside the park, in Saint Mary, had a propane tank with a sign saying they sold it.  Inside Carol discovered that the person who pumps the propane was away until one.  Since it was currently ten, we turned north eight miles to Babb, near the Many Glaciers entrance to the park, today's excursion.  No laundry or propane in Babb.  I remembered seeing a KOA sign just north of Saint Mary; knowing they had both propane and laundry rooms, we turned back.  Carol did laundry while I got propane (only three gallons!) and took a shower.  While browsing the shop, drinking very good coffee purchased there, I found a treasure.  A window-washing wand like the ones at fuel stops, but with a handle that extended. I bought it, and a bottle of Windex, then rushed outside to remove the zillion Canadian bugs that had met their maker against our huge front window.  They were so thick that I had to stop at one point when we were driving into the sun day-before-yesterday, because I couldn't see a thing.  With just the Windex and my new toy I was able to do a respectable job.
All our work completed, we entered the Many Glaciers entrance to hike and enjoy the rest of the day, first stopping at the information center to get a trail map.  Carol wanted to catch a two-o'clock nature walk leaving from the porch of the Swift Current Motor Inn.  It was quarter till, so we scurried out to the machine, left the information center and headed for the huge hotel we'd seen on the way in.  We arrived at the Many Glaciers Hotel.  By the time we drove back past the information center and another half mile to the proper location, we were too late to connect with the nature walk. 
The trail map had several hikes listed, most a lot more strenuous than we were up for so we chose a 3.6 mile round trip to Redrock Falls.  We were clearly not the only ones since we met many people on the way, including some much younger folks who passed us going in the same direction.  At one point I noticed a man about my age in camouflage pants, packing what looked like a .44 Magnum revolver in a holster partially hidden among water bottles, binoculars, and other items strapped on his body.
Aside:  You gotta kind of laugh at the new law allowing people to carry firearms in National Parks.  The irony is they are not legally permitted to use them.  National Park regulation allows no hunting and no recreational discharge of weapons within park boundaries.
At several places along the trail we encountered the distinct odor of Dentine Gum.  The source is a low bush with shiny, dark green oval leaves.  Being the professional photographer that I am, I neglected to photograph the plant for later identification. 
I did, however, photograph the falls.
 <![if !vml]>
<![endif]>
In the upper right side of the shot above, you can see a young woman.  She and her man passed us on the trail, she with a fishing rod and small camera, he with a daypack, water bottles and bear spray.  When I offered to photograph them with their camera, they happily accepted.  Later at the base of the falls, we saw them about halfway up photographing each other.
On the return trip we met Mr. 44 magnum and his wife with another, younger hiker, all with binoculars trained on the mountainside across Redrock Lake.  they were all watching a grizzly and two cubs the young fellow had spotted.  We joined them and Carol spotted it through her Bushnells, but they disappeared into the trees before I could get a look.
Aug 18 - Our last day in the park.  We packed some gear after breakfast and caught the shuttle to Logan Pass.  We discussed stopping at Saint Mary Falls Trailhead and hiking the short distance in then catching the next shuttle to Jackson Glacier Lookout.  Looking at the hiking map, I noticed that the trail to Gunsight Pass intersected the Saint Mary Falls trail.  I suggested we bypass the Saint Mary Falls, stop instead at the Gunsight Pass trailhead to look at the glacier then continue along that trail to the falls.  The distance was about double our original hike but only slightly longer than yesterday, and certainly doable.  While we were discussing it, we missed both shuttle stops.  Our next idea was catch the Avalanche Creek shuttle at Logan Pass.  No chance of missing our stop because that was the only place this particular shuttle went.
At the creek we took a loop trail through an old-growth forest of Western Red Cedar, Hemlock, and Black Cottonwood.  Plaques along the way told us that, unlike other areas in the park, Avalanche Creek has not seen a forest fire since 1500.
<![if !vml]>
<![endif]>
The place had a rain forest quality about it.  With humidity much more evident than anywhere else in the park, and foliage I'd not seen since our Alaska hike on Admiralty Island, particularly the medicinal plant Devils Club, pictured below.  Native Alaskans have harvested this relative of ginseng as a remedy for an omnibus list of ailments.  Harvesting must be done with care to avoid the sharp spines all along the stems.  Grabbing hold of one can be a nasty experience, as one of our fellow hikers in Alaska found out.
<![if !vml]>
<![endif]>
On our return trip to Logan Pass to catch our eastbound shuttle to Saint Mary, we sat in the second row of seats and were soon listening, unavoidably, to the two people in front of us, Jody, a fit woman in her early thirties and Thomas, a not-so-fit man in his late forties.  It was pretty clear that they'd met at the shuttle stop, and also that he had probably initiated the conversation for less than honorable reasons.  In the thirty minutes it took to get from Avalanche Creek to The Loop, we learned that Jody had biked around the world, hiked across the U.S., was a personal trainer, had two brothers and a mother who were veterinarians, and was about to move to Bellingham, Washington because she met a doctor who moved there, and both her trek-mates lived near.  Thomas was, I believe, claiming to be licensed as an astrologer in five states, one of them Washington.  He told her he thought Bellingham was in her stars, a convergence of some sort.  I was waiting for him to offer to do her chart, when we slowed to a stop.   Jody asked our driver if this was The Loop.  When the driver said it was, Jody decided she hurried off to take some pictures.  To his credit, Thomas didn't try to follow.
Instead, he spent the rest of the ride to Logan Pass chatting with the female driver, no astrology this time.  We learned that when he was hiking in Europe, France in particular, wine and dinner were flown in by helicopter as they ended the day.  He kept referring to "two hippies."  We learned also that he'd just come from Peru (Machu Pichu to be exact), that where he lived looked a lot like the area we were currently traversing, and … I stopped listening.  He seemed to object to silence, needing to fill it with words no matter how inane.  Happily, he embarked on a hike recommended by our driver as soon as we arrived at Logan Pass.
<![if !vml]>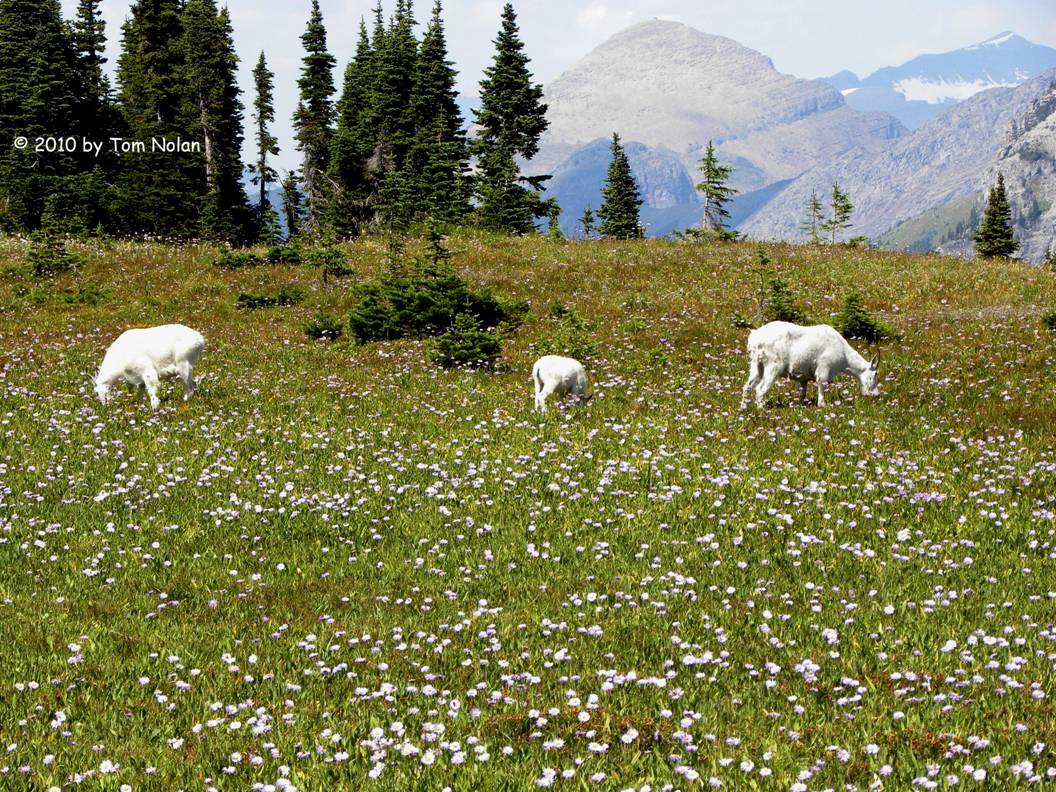 <![endif]>
We caught the eastbound shuttle with the same driver we'd had on the way up this morning, getting off at Rising Sun to get some coffee at the Two Dog Flats restaurant there.  Coffee turned into dinner.  We caught the next available shuttle back to the Saint Mary Visitor Center, browsing the gift shop for the last time this trip then walked back to camp with tickets for an evening performance by Jack Gladstone, a Native American musician and anthropologist.
<![if !vml]>
<![endif]>
Aug 19 - Up by five-thirty, on the road by six.  We left the park southbound on 89 just as the dawn was approaching.  Fifteen minutes later I pulled off the road so we could watch the sunrise.  A mackerel sky greeted us as the sun approached the horizon, and we watched the colors morph from pink to orange to yellow.  When the arc of the sun appeared, a breeze rustled the meadow grass and wildflowers as if shaking them awake.  We watched, not making a sound, until the orb was completely visible.
<![if !vml]>
<![endif]>
We skirted the southern tip of the park on US 2, looking for breakfast.  Apparently the Blackfeet don't eat breakfast, in restaurants at least, before eight.  We finally found a café in Evergreen with hearty breakfasts, great coffee, and free Wi-Fi.  After satisfying our hunger and our internet addiction, we pushed on toward Oregon. 
In the set of audio books Carol got from the library one was titled The Big Burn, by Timothy Egan.  It is the story of the development of the United States Forest Service, Teddy Roosevelt and Gifford Pinchot who fought political battles with a corrupt congress to sire it, and the unbelievably huge forest fire in 1910 that gave birth to it.  Serendipitously, the 20th and 21st of August are the hundred year anniversary of the big burn.  Since several places in northern Idaho figured significantly in the story, we agreed that visiting a couple was a must. 
The first, the city of Wallace, was evacuated and partially burned.  Its significance lay as much in the heroism of the forest rangers stationed there as in the town itself.  We stopped for a few hours to tour a small museum and pick out some of the buildings mentioned in the book.  The entire city is now on the historical register, more for its silver mining than the fire however.
The second is the village of St Marie, where there is a memorial plaque honoring the 29 forest rangers lost fighting that fire.  The memorial was authorized by congress in 1933, after years of fighting for some remembrance by Ed Pulaski, perhaps the best and bravest of them.  Pulaski is famous for saving all but six of his forty-five men by gathering them in an old mine entrance until the fire passed.  He lost an eye to the flames and was seriously debilitated by smoke-damaged lungs.  He received no recognition from the US government in spite of letters from his men and his superiors touting his skill and bravery.  However, his name lives on in an invention he perfected after the fire.  Foresters are all familiar with the tool, one side axe the other mattock, called a Pulaski.  We stopped in the cemetery where a new plaque is to be dedicated tomorrow in commemoration of the hundredth anniversary of the fire.
<![if !vml]>
<![endif]>
We're camped in Hayden State Park just west of St Marie, showered and sleepy and planning on rolling toward Oregon right after breakfast tomorrow.
Aug 20 - We broke camp at about six-thirty on our way to Eugene Oregon and Carol's brother.  Once again the day's trek brought us through an ever-changing landscape, from the mining and timber mountains of Idaho, to farmland with miles and miles of wheat fields, to the lush Columbia River Gorge, and finally to the fertile Willamette River valley.  Not an eventful day trip-wise but we seem to have carried a remarkable amount of the land with us, based on the dirt-streaked Roadtrek parked in my brother-in-law's driveway.
<![if !vml]>
<![endif]>
Aug 21 - Full day in Eugene.  My brother-in-law, Douglas and his lovely lady, Lynn, deserve (or maybe are saddled with) a few lines in this journal.  Lynn is a retired teacher, artist and potter with a studio on the top floor of their home.  She is a sweet and courageous woman that any man would be lucky to have as a life partner.  She and Doug fit like a comfortable pair of shoes.
Doug is, well, Doug.  He is a free spirit in the most flattering sense of the phrase.  He has lived in or around Eugene most of his adult life, working in organic markets, bicycle manufacturing co-ops, and whatever else suits his taste.  An example of his take on life is in order here.  In Eugene, a place I have in the past labeled as "Where old hippies go to die," he had a cabin and plot of land that occupied one block on a short side-street in the city.  He tended an extensive organic garden, raised chickens for eggs, recycled shower and dish water to nourish the plants, and generally lived a quiet existence behind his six-foot board fence.  The city, in some misguided beautification project, put concrete sidewalks around the block where he resided.  The problem ensued when they required homeowners to maintain the walk free of snow in the winter.  The way the law read, as I understand it, was if there was a sidewalk, the homeowner was responsible for it.  Well Doug had no say in, or desire for, such a walk so over the summer he systematically covered it with soil and straw, encouraging native greenery until, when winter arrived there was no longer a sidewalk visible. 
Lynn and Doug live now on a quiet street close to the center of Eugene, with a small orchard, chickens, and a beautiful organic garden in their back yard.  They walk or ride bikes most places in this bike-friendly city.  In fact, their car has been in the shop several days awaiting a replacement fuel tank.  They are only concerned that it be ready for them to travel to the coast next week for a short vacation.
An aside:  All you RV owners out there who may be traveling through Eugene take note.  The waste treatment plant in the city has an RV dump station available at no charge.  Another interesting note: Oregon, being the only state other than New Jersey that doesn't allow vehicle owners to pump their own gas, makes an exception for diesel fuel, requiring owners to pump their own diesel.  I've gotta believe that it is a liability issue around low-sulfur vs. ultra-low-sulfur fuel.
Aug 22 – We left Eugene late morning, after a sumptuous breakfast of scrambled eggs with salmon, new yellow potatoes, and bread with raw honey.  We drove east on scenic route 126, crossing the Cascades at McKenzie Pass.  We stopped for a short time near the crest to marvel at the cloud covered peaks of the Three Sisters and the lava beds on both sides of the narrow winding road.
<![if !vml]>
<![endif]>
We're camped for the night at Clyde Holliday State Park just east of Mt. Vernon, Oregon. 
We've been listening to the audio book of One Flew over the Cuckoo's Nest for the past couple of travel days.  For the entire reading I've been trying to recall the name of the terrific actress who played Nurse Ratched, but I couldn't come up with anything but the feeling that her first name began with "L".  Finally, I looked it up on IMDB.  Louise Fletcher.  At least I got the first letter. 
Once across the Cascades, we were back in dry country; anything not brown is being irrigated regularly.  Here we see road signs warning us to watch for elk.  We saw the signs, not the elk.  At the campground there are instructions telling us what to do if we meet a cougar (the four-footed variety).  They are pretty much the same instructions one is given about meeting a bear.  We haven't seen either.
Aug 23 – We're driving back through Idaho, a place our daughter Laura maintains doesn't exist.  The dry prairie land continues past Boise, getting enough drier that even the junipers disappeared for a time, leaving only sagebrush and sparse prairie grass.  A little beyond Mountain Home we drove past some wheat and corn, growing in heavily irrigated patches, but as we climbed, that faded into the sagebrush and grass again.  I saw several signs advertising "Rain for Rent" with photos of the irrigation systems. 
We left camp this morning on US 26, staying with it into Idaho, where it merged into I-84 along with US 20.  We had two obvious exits from the interstate to choose from, US 20 at Mountain Home or several miles farther, US 26.  It was an arbitrary choice since they reconnect near Craters of the Moon National Monument.  I chose the first, primarily to release me from the boredom of interstate roads as soon as possible.  I told Carol of my decision and she went immediately to our newly acquired Idaho road map.  "Stay on twenty when they merge," she said.  "They'll be the same road then."  "I know, but stay on twenty so you don't have to think about it."  I nodded. 
When we reached the junction point, I turned west on 20/26 and was about to accelerate when Carol reminded me that we needed to be traveling east.  I made a U turn.
We are spending tonight in the Craters of the Moon campground under a clear sky and what looks like a full moon.
 <![if !vml]>
<![endif]>
This is one of the most exotic places I've ever seen.  Our campground is in a volcanic crater, maybe two thousand years old.  Piles of basalt surround us.  The supporting soil varies from black to rust red.  From the rim we can see evidence of the last eruption, lava flows winding through the basalt like a petrified stream.  The young ranger who took us on a guided walk this evening said even after it solidifies it's too hot to touch for quite a while, remarking that some friends visited the lava flow in Iceland this summer and cooked a grilled cheese sandwich on it.
Aug 24 - I took a camera up to the rim early this morning to shoot some photos at sunrise.  I shot way more than I needed to, kind of as an excuse for not leaving the hilltop.  <![if !vml]>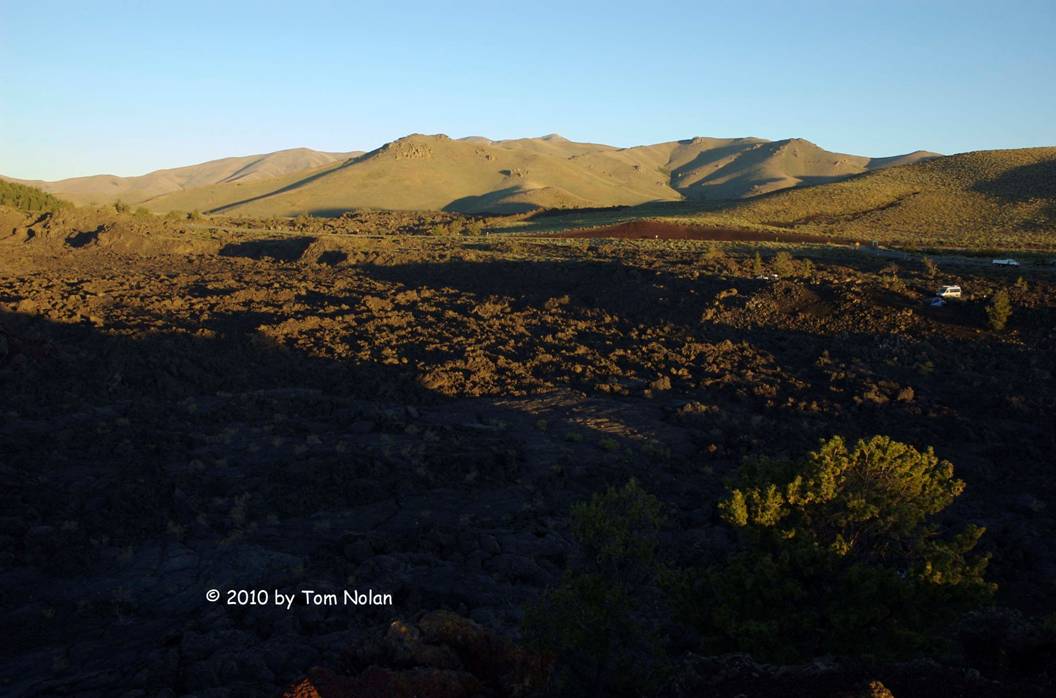 <![endif]>
After breakfast we drove the loop road up to the spatter cone area.  Spatter cones are the tail end, or last gasp, of an eruption and consist of hills of basalt rubble, with a hollow center.  One of them, Snow Cone, brought a chuckle from us at the cutesy name, which we assumed was someone's idea of what the shape resembled.  When we got to the viewpoint and looked into it we saw snow! 
<![if !vml]>
<![endif]>
We finally pulled ourselves away from the place, promising it, and each other, that we would return for a longer stay. 
We passed through Arco, hometown of Maria Lewis, our young ranger from yesterday, and followed the signs for Jackson Wyoming. We stopped in Swan Valley to mail some letters and, as far as I could tell, Swan Valley consisted entirely of the post office, a grain silo and a custom motorcycle shop. 
 A quick stop in Idaho Falls for fuel, some provisions, and a cup of Starbucks coffee, and we were rolling up into the Rockies on our way to Grand Teton National Park, a bit north of Jackson.  We pulled into Gros Ventre Campground, passing a herd of bison on the way in.  <![if !vml]>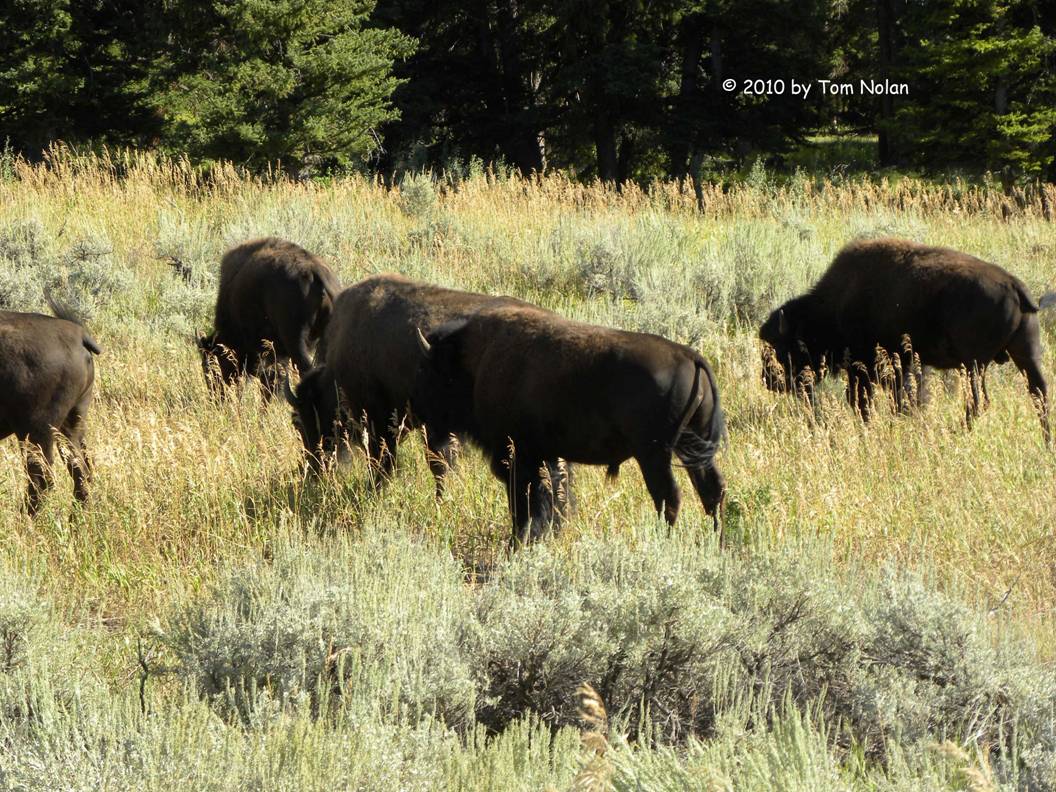 <![endif]>
Carol wanted to get to a yoga class in Jackson at five-thirty, so we left the campground to locate the yoga studio and do a little exploring in town.  On our way out of the park, we were stopped by several members of the bison herd crossing the road.  I considered the delay a photo-op, however, it didn't give us much exploring time before Carol's class. After a short walk in the downtown area, I dropped her at the studio and hunted for the Teton County Library.  I uploaded some more of this ramble, answered email, and added the photos to my files before returning to pick her up. 
We rode around the town square to get a closer look at its two entrance arches made entirely of interlocking elk antlers, then followed a stagecoach to the edge of town and drove back to camp for dinner and scrabble (I won.)
Aug 25 - Turns out that today is the ninety-fourth birthday of the National Park Service.  We know this because a ranger came around to all the folks at the Jenny Lake visitor center to tell us that they would be serving free birthday cake to celebrate.  We had left Gros Ventre around nine intending to spend most of the day in Grand Teton NP before driving up to our reserved campsite at Canyon Village in Yellowstone.  We wanted to take the water shuttle across Jenny Lake and hike to Hidden Falls and on to Inspiration Point, a one mile trek with about six hundred foot elevation change.  We wanted a cup of good coffee before catching the boat so we drove to the Jenny Lake Lodge a few miles up the road, knowing they had a restaurant.  When we inquired about coffee at the maitre d's station, the snooty woman said, "We don't serve between meals," as if we were subhuman for even asking the question.   Grumbling, we drove back to the visitor center only to discover to our delight that the store brewed Seattle's Best Coffee. 
Being ecologically vigilant (we had carried our recyclables around for almost two weeks before depositing them in recycle bins at Craters of the Moon) we decided we ought to be using our traveling coffee mugs instead of their paper cups.  Carol volunteered to retrieve them from the Roadtrek, which was parked a hundred yards away in the first of two parking lots, while I looked for some appropriate adhesive to repair the crack in our granite sink cover (a result of it not being in place over the sink day before yesterday thereby landing on the floor as we drove.)  Though I soon discovered that they did not carry anything suitable, I continued to browse until it occurred to me that my love had been gone quite a long time.  I stepped outside and called her cell phone.  She answered, saying, "I can't find the camper.  I was going to call you.  I went to the wrong lot at first but I think I'm in the right one now.  I still can't find it."  I considered trying to direct her to the camper, assuming she was in fact in the correct lot, but thought better of it.  "Can you see the store?"  "Yes I can see it."   "Come back to the store."  Fairly soon she showed up from the correct lot.  We got our coffee in paper cups.  We did, however, return the corrugated cardboard sleeves before we threw the cups in the trash.
Hidden Falls and Inspiration Point were worth the trek up the rocky, sometimes steep climb.   We saw two groups of tech climbers on the rocks to the left of the falls with an unusually large number in each group.  I then noticed a sign requesting that folks at the overlook not disturb the climbing classes.  Hidden Falls to Inspiration Point was the most difficult part of the hike, with sections of the trail no more than stepping from rock to rock for footing.  We returned to the visitor center weary and ready for another cup of that great coffee (paper cups again) before driving north to Colter Bay Village for laundry and showers then on to Yellowstone.<![if !vml]>
<![endif]>
It was seven-thirty by the time we had taken care of our cleanliness issues, which meant we'd be hunting in the dark for our reserved Canyon Village campsite, eighty plus mountain road miles away.  Knowing that many animals are on the move at dusk, I watched the roadsides closely and kept the speed down, pulling over a few times to let faster vehicles pass.  
As night fell I became a little concerned about signs warning of road closures from ten pm to eight am.  Not knowing exactly where these closures were located relative to our destination, I let my road speed inch up to forty-five and above to try and reach Canyon before ten.  Near the crest of a long hill, I saw the glow of lights from a vehicle approaching. I dimmed my lights before the car came into view and was a little surprised when the driver flicked his lights at me in the universal 'dim-it' signal.  Just over the crest I saw the reason, about a ton of bull bison walking toward us in the middle of the road less than a hundred feet away.  By some miracle I avoided hitting him and managed to keep us on the highway. The look of supreme disinterest on the beast's face seemed to say that of course we were the ones who would yield right of way.  His nonchalant stroll gave clear notice as to who owns this place.  I did not get a picture.
We pulled into the Canyon Village Sinclair station a couple of minutes before ten to refuel and ask directions to the camp.  We got our reservation packet with the site number, found the site and settled in without any attempt at locating a level spot.  It took a while to fall asleep without seeing that huge head in my high beams every time I closed my eyes.  
Aug 26 - Slept till well past six this morning.  We had determined last night that our assigned campsite would never allow us an anywhere near level parking place so we decided to scoot down early to the registration center and see if we could change sites.  We also noticed that the picnic table was missing from the site.  The woman at the desk was incredibly helpful and found a pretty level site in a different loop for our final two nights.  We wanted to mail a couple of postcards so we drove across the road to the Canyon Lodge complex and parked in a shaded slot.  Carol started the dishes while I mailed the cards and bought stamps.  When the dishes were done, we grabbed a late breakfast at the cafeteria rather than mess up our clean galley.  It being ten-thirty already, the breakfast buffet pickings were kinda sparse but we managed.  After our meal we purged the holding tanks and filled up with fresh water then went to find our new campsite.  It was level enough to be comfortable so I unloaded the bikes and set up the chairs before sitting down to finish yesterday's entry.
This afternoon we joined a ranger-led walk along the south rim of the Grand Canyon of the Yellowstone River.  The ranger had some really interesting information, most of which I can't remember at all (short term memory dimness.)  The one I do recollect had to do with an entrepreneur named Tom Richardson, who would bring wagonloads of vacationers up to the place on the rim now called Uncle Tom's Point, and lower them into the canyon by a combination of ropes and ladders to enjoy a sumptuous meal at the bottom.  As the ranger explained it, men wore suits, ties, and hiking boots, women wore dresses, broad-brimmed hats, and hiking boots.  After the meal he would haul everyone back to the rim and return them to whatever lodge they came from.  The charge was about four dollars, a tidy sum at the turn of the twentieth century.
<![if !vml]>
<![endif]> 
Needless to say, but I will anyway, the canyon is spectacular.  I took many pictures.  We wove our way back to the campground via Inspiration Point (maybe all parks have one) and Grand View loop in time for a ranger talk about bison.  The talk was pretty juvenile and there were only four kids out of thirty people.  We left in the middle.  Tomorrow's plan is Old Faithful.  You can't say you've been to Yellowstone without it.
Aug 27 - We left for Old Faithful about seven this morning.  Knowing that the road didn't open till eight, we found a spot along the way to stop and make our breakfast at a picnic area next to a large meadow.  While we were eating, I spotted a lone bull about the size of our close encounter grazing its way through a tree line that jutted into the meadow.  We ate and watched while he moseyed into full view then in and out of cover, finally disappearing into the heavily wooded area close to the road.  It's a great way to greet the day.
<![if !vml]>
<![endif]>
We arrived at the Old Faithful complex early enough to have the huge east parking lot almost to ourselves.  Our immediate destination was the new visitor center, which had opened for business on Wednesday, three days ago.  The first thing one notices upon entering the place is the all-glass wall affording a full view of the famous geyser.  We were only a few minutes from its next performance so we positioned ourselves near that window to watch not only the geyser but also the people rushing to get a place on the array of benches surrounding the viewing area.  The forty-two second show went soon after we sat down.<![if !vml]>
<![endif]>
Another audio book we heard on this drive is Free Fire, a mystery by C. J. Box that is set in Yellowstone.  Since a lot of the action took place around the Old Faithful complex, we wanted to explore the buildings, particularly the hotel whose lobby he describes as awe inspiring. We spotted the Yellowstone Lodge and made for it.  Upon entry I looked up to discover that the ceiling, though impressive in its woody abundance, was nowhere near "awe inspiring."  I spotted a gift shop and went in while Carol veered off to the registration desk to find out about the anomaly. 
Exiting the shop, I approached the front desk where Carol was listening to a cheery clerk say, "No, I'm not in a book.  You're looking for the Yellowstone Inn.  This lodge isn't a hundred years old until 2043.  But eighty-seven's not too shabby."  Carol thanked her and we left to find the century-old inn.  It was on the other side of the new visitor center, looking every bit as exotic from the outside as described in the book.  It had an indeterminate number of stories, five I think, but it was hard to tell from the placement of the windows and the many gables.  The highest roof was flat on top with a railing around it, ideal for viewing the geyser.  Inside, we were drawn to the enormous fireplace capable of burning logs it could take two people to lift.  I sat in one of the leather-cushioned chairs and looked up.  There was the incredible ceiling, going all the way, it seemed, to the roof.  Balconies skirt the perimeter at several levels so patrons can look into the lobby from whatever floor their room is on.  There are apparently hallways that lead nowhere in the banks of rooms that branch off the lobby in odd directions.  <![if !vml]>
<![endif]>
It is an eerie and impressive place.
Carol announced that she wanted to watch the geyser again, this time from outside so she could hear it.  We assembled at the benches along with a couple hundred others to await the blow.  When this one came, it lasted well over a minute.  Afterward Carol wanted to walk the perimeter path.  I didn't.  I retrieved my computer and we went back to the Yellowstone Lodge to see if they had WIFI.  They did, but for guests only.  The clerk, finding out that we were camping in the park, gave us an access code that would work from the Snow Lodge (the third hotel in this complex) so, while Carol walked the perimeter I caught up with email and uploaded a few more days of the trip.
After lunch at the Lodge cafeteria we drove on to complete the loop back to our campsite, stopping along the way to view some of the impressive geography. At Lake Village a sign for Natural Bridge Trail caught our eye, so we decided to take a look.  With no mention of distance on the trail markers, we pushed on through some really beautiful pine forest.  We trekked through more forest up and down hills, until we finally met a road.  Still no clue how far the site lay ahead.  After walking for a time up that road, we turned and retraced our steps.  The bridge will continue to be as natural as it was before we attempted to view it.
Aug 28 - We left Yellowstone a day early, based in part on deteriorating weather.  Rising before dawn to motor south a few miles to Hayden Valley for a glimpse of wildlife other than bison, we parked at the first of many pullouts along the valley. Soon we were able to make out silhouettes of a half dozen elk grazing on one side of the road and a few near the tree line on the other side.  We stayed until it was light enough to get some marginal photos then moved farther south, driving into morning fog.  At another pullout we sat waiting for the fog to lift with the dawn.
<![if !vml]>
<![endif]>
After sunrise, we returned to the campground dumped our tanks, replenished the fresh water, and bought a couple of showers at the registration center.  That done we turned north to Mammoth Hot Springs and the north entrance to the park. 
<![if !vml]>
<![endif]>
We stopped several times to gawk at the geological wonders of this place, arriving at Mammoth a little before noon.  A brief tour of the visitor center displays, a cup of coffee, and a drive up to a point where we could see some of the springs, altogether took about an hour.  There were signs all over the lawns telling people not to approach the elk, but no elk.  In all fairness there were numerous non-written signs that they frequent the lawns.
<![if !vml]>
<![endif]>
We left Yellowstone with the goal of getting an oil change on the Roadtrek, which was nearing its 10,000-mile recommended interval.  We got on I-94 at Lexington, left it about ten miles east of Billings where we fueled up, got more coffee, and had the oil and filter changed.  This machine takes thirteen quarts of oil!  
We are camped for the night in the Rosebud Recreation Area, a Montana Fish and Wildlife campground on the Yellowstone River.
Aug 29 - Rolling east again on I-94 toward Bismarck, North Dakota, we stopped briefly to tour Teddy Roosevelt National Park.  Our tour consisted mainly of a loop of about twenty-five miles around the park, with pullouts at scenic locations and trailheads.  Well into the drive I asked Carol how much farther we had to travel to complete the loop.  She asked me for a landmark so I repeated the name on the last sign we passed.  "There are two of those," she said, then paused.  "We're going clockwise right?"  "Counterclockwise," I answered.  Another pause then, "I wondered why things that were supposed to be on the right were on the left," and finally, "All the descriptions are in order when it's counterclockwise."  I love this woman. 
<![if !vml]>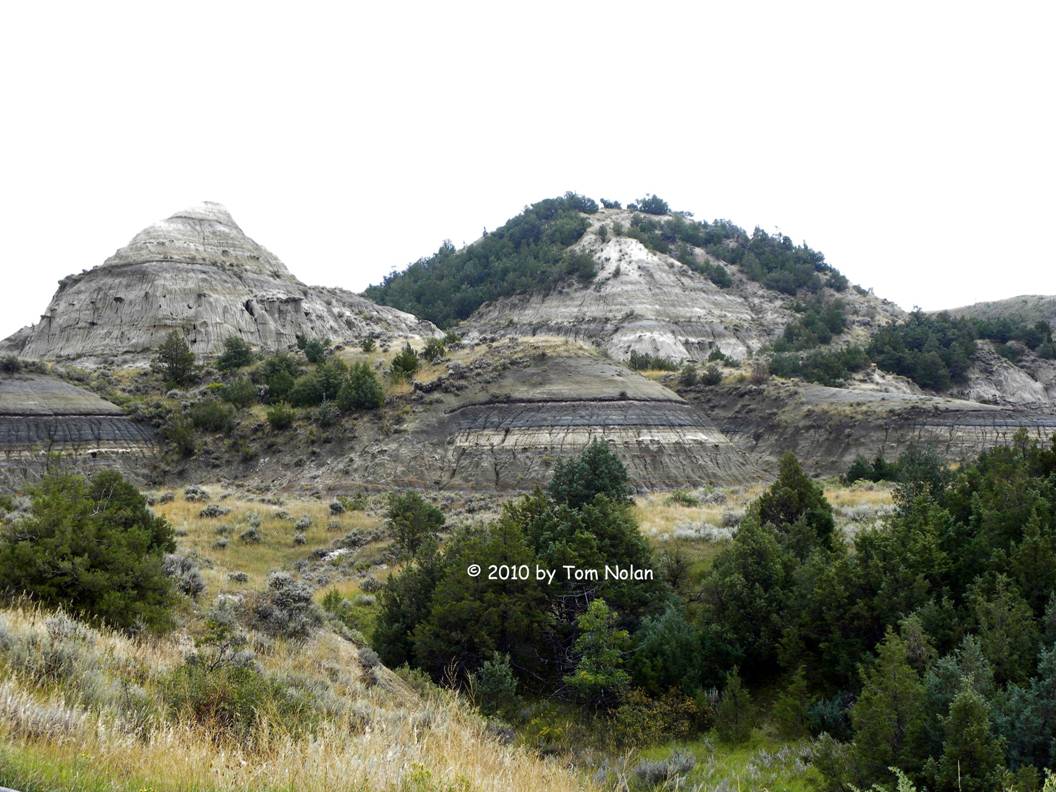 <![endif]>
Some of the info in the brochure Carol sweet-talked the desk ranger out of said that there were elk, deer, pronghorn antelope and such in the park.  We saw evidence of elk along the way but no actual animals.  None of the other highlighted grazers appeared either.  However, we were entertained by an abundance of prairie dogs.  Towns of these cute little critters dotted the landscape and the residents were not at all shy about checking things out.
<![if !vml]>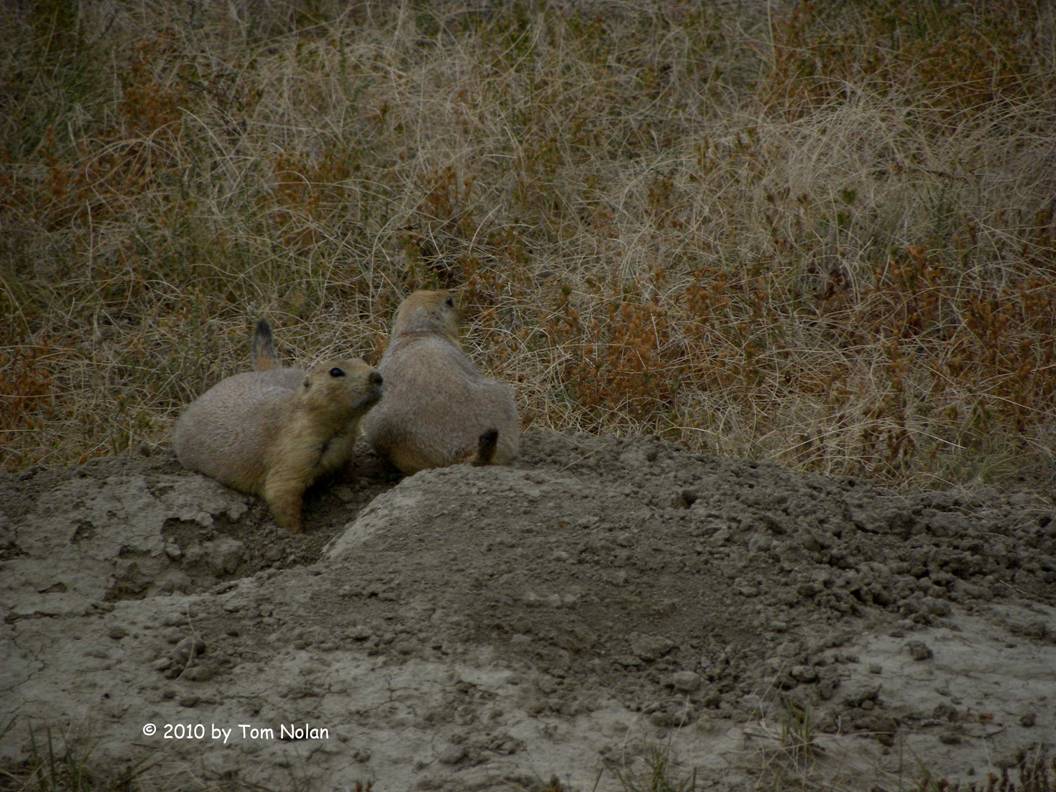 <![endif]>
A couple of the names along the interstate amused me: Camel Hump Lake, Home on the Range, Mountain Home, Magic City; answering a 'Where are you from?' question with one of those could either start a conversation or a fight.
We camped just outside Mandan, a couple miles west of Bismarck, at Fort Abe Lincoln State Park.
Aug 30 - We got an early start this morning, rolling onto the interstate before eight.  We're driving to Glenwood, Minnesota (which boasts the only traffic light in Pope County) to spend a few hours with some old friends from my US Air Force days.
The land changes again east of Bismarck, gradually becoming less prairie rangeland and more wheat, corn and sunflowers.  Seeing several hundred acres of the yellow-ringed flowers on their tall green stalks, brought me back to Yalova, Turkey and the fields of sunflowers arrayed along the route to my military work site.  A farmer waved us down one morning on the way to work and presented us with a sunflower seedpod as big as a pizza.  We roasted it that afternoon.
Another treat; along our entire northwestern jaunt both here and in Canada, we have seen clusters of Black-eyed Susans growing along the road shoulders.  I have to admire both their tenacity and the apparent care that the road crews take not to mow them down. 
We spent a delightful few hours with my old friends, reminiscing about our youthful excesses forty-five plus years ago and catching up on current family, grandkids especially.  We left shortly after dinner at a large restaurant on the shore of Lake Minnewaska (yes, named just like ours) which makes our lake look like a rain puddle.  It is the tenth largest lake in the land of ten thousand lakes.  We added another sixty miles to the odometer before camping at Sibley State Park on the shore of another lake.  We were awakened in the middle of the night by the sounds of a bodacious rainstorm.  The wind rocked the Roadtrek and the lightning popped the circuit breaker in the park electric box.  We finally got to sleep after the rain let up some.
Aug 31 - Woke around seven this morning, finding the popped breaker after noticing that the clock on the microwave wasn't flashing. Outside I saw that the tag I placed on the site post indicating it was occupied, was gone.  I found it in the weeds, soggy and torn.  We secured everything and drove up to the showers.  After cleaning up we continued our trek eastward, stopping at the Swan's Café in Litchfield, a pleasant steak-and-eggs breakfast place decorated all over with paintings and figurines of swans.
By late morning we were rolling into Minneapolis/St Paul on I-94.  I noticed a peculiarity on the highway entrance ramps as we drove through the city; they had traffic lights flashing amber, but with a sign saying "one car on green."  I assume it's a traffic management mechanism used during rush hour. 
We drove into Wisconsin looking for a place to do laundry and get some high speed internet and good coffee at the same time.  We rejected Jinx, the temperamental built-in GPS in our vehicle and pulled out our reliable Garmin.  Asking Sadie (that's her name) where we could find the nearest Starbucks - good coffee and free WIFI. She located one in Wisconsin Dells, forty miles away.  Theorizing that "The Dells," being a tourist attraction, would have a coin laundry also, we gave her the go ahead.  I had been there thirty-five or forty years ago and knew of the strange mesa-like islands that gave the place its name.  What I didn't expect was the growth of the town based on that attraction.  The place exists solely to house and entertain visitors and transport them via old military surplus amphibious vehicles to the wonders in the waters. 
I dropped Carol at a KOA to do laundry while I updated the Jewish Congregation website and uploaded the latest record of our journey at the local Starbucks.  When Carol had finished the laundry chore she felt the need to check her email also, so we returned to Starbucks for another fix of caffeine and WiFi.  It was dark when we finally got back on the road.
Sep 1 - We spent the night at Devil's Lake State Park.  When we asked for a level site, the delightful young lady, with an unusual amount of enthusiasm for a person working alone at ten pm, showed us a book with each site identified according to size, available hookups, and levelness.  We selected one marked "Level" close to a shower and registered.  When we arrived at the location, we jockeyed the machine around trying to find a position approaching level but were unable to come very close.  I think maybe Wisconsin parks have a plus-or-minus five percent acceptable deviation for a site to still be called level.
In the morning after showers and breakfast we our sights on Ohio, and a small town on the Maumee River called Grand Rapids (yes there is one in Michigan also.)  First we had to find our way out of this huge park in Wisconsin, so I fired up Sadie and told her to take us to Madison, which was on our way southeast.  She dutifully guided us to the park boundary but then turned us north instead of south.  I assumed she was taking us to the interstate, not what I considered the best route, but I decided to let her have her way.  A few miles north she directed us to a right turn. As I was about to execute said turn, she added "Right turn and enter ferry."  It appears that the accepted route to Madison from this area is a free ferry across the Wisconsin River.  I ignored her and reversed direction, heading south.  She protested for a few miles then resigned herself to the change and helped us along. 
After a short detour in Indiana to visit my sister and her husband in Chesterton, we continued east.  Soon we were into heavy rain that lasted until we entered Ohio.Once in the Buckeye State, I asked Sadie to find the best route to Grand Rapids, giving her a chance to redeem herself after the ferry incident.  She led us on Ohio secondary roads quite efficiently, crossing the Maumee just north of town.  I turned onto the quaint main street, assuming Sadie was satisfied with having gotten us to the assigned town but noooo, she kept demanding a left turn off Main.  I unplugged her.  <![if !vml]>
<![endif]>
Mary Jane Thurston State Park is a pretty sad little place.  Unlike most of the state parks we have visited around the country, this was a fairly primitive setup.  It's only inviting feature was the Maumee rapids (the Grand Rapids, I assume) where we observed: a flock of geese, several herons, and an uncountable number of gulls, all waiting in the shallow water for dinner to come to them.  We walked the half-mile into town along the towpath of the short canal that bypassed the rapids.  The town has turned the unused canal into a linear park with picnic tables and footbridges at regular intervals.  We ate at LaRoe, sitting on their back patio with a view of the canal and the river beyond.
Sep 2 -   We had fallen asleep early; as a result I awoke bright-eyed and bushy-tailed at four this morning.  I lay listening to the steady rain for the next half hour thinking I might doze.  When that didn't happen, I asked Carol if she was awake.  She said, "Yes" so I made the coffee, put it our traveling mugs and handed Carol hers.  "I'm going to drive," I said.  "What time is it?" She asked. "About four-thirty."  With a sleepy groan she lay back on her pillow, and for the next three hours I drove while Carol slept.  When she came up front slugging down the last of her coffee, I pointed out the Starbucks logo on the Rest Area sign.  She nodded.  Our non-verbal communication is most effective around coffee. 
Twelve hours after we left Grand Rapids, we pulled up to Ricketts Glen State Park near Wilkes-Barre.  We'd been there before also prompting Carol to note that our last two stops were familiar places. "Kind of like winding down from the trip," she said.  Tomorrow is Narragansett, RI.
Sep 3 - We slept last night with the big back doors open wide to the lake, waking to the soft sounds of a kayaker paddling by just after sunup.  This morning we'll make a quick stop at Starbucks for our second cup of coffee and on to Rhode Island. 
Well, Rhode Island didn't happen today.  Hurricane Earl was predicted to skirt the New England coast, causing high winds and heavy rain, so we opted to spend the night at home and drive up tomorrow morning for the Rhythm and Roots Festival.
- End -